Adding value, cutting costs: Qinisa Steel Solutions makes a quantum leap with the latest in fibre tube laser cutting technology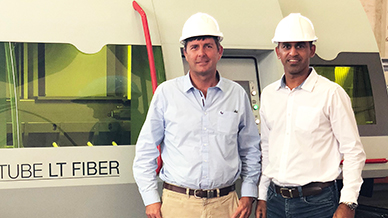 In 2013, it became apparent that there was a need for a steel company which would be able to add value to project steel, in the interval between sourcing raw steel from the mills, and delivery of the ready-to-assemble product to the customer. This saw the formation of Qinisa Steel Solutions, a Level 2 BBBEE, 57% black-owned business based in Alrode, Johannesburg with the vision of being a professional, customer-centric manufacturer of parts where only the highest levels of precision and repeatable accuracy would be acceptable.
 The company's Managing Director and steel industry stalwart, Jerry Govender, is a shareholder; as is Vunani Capital and BSI Steel, which as a strategic equity partner supports the business through its supply chain strength.
In July 2016, Qinisa took a quantum leap forward with the acquisition of a BLM Adige LT Fibre tube laser from local distributors First Cut. With 60 years of industry experience, First Cut is a leading South African distributor of a range of cutting consumables and capital equipment.
"We chose BLM and First Cut on the strength of our previously positive experience with them at BSI Steel. During installation, commissioning and training phases, we were pleased with the professionalism and unstinting assistance which both companies afforded us," says Managing Director Jerry Govender.
 Both Govender and Director Grant Mackenzie have many years of experience in the engineering and steel industries, most recently having been COO and CEO of BSI Steel respectively. Qinisa Steel Solutions focuses on supplying infrastructure development projects in the renewable energy sector, as well as in the rail, automotive, mining, and power generation sectors. The new fibre tube laser will be playing a pivotal role in offering a technologically superior service to its customers in these industries.
 The company's steel processing capacities includes band saw-cutting, CNC beam and structural steel drilling, fabrication and managing hot dip galvanizing after primary processing. Now, Qinisa is able to add state-of-the-art fibre tube laser cutting to its customer offering, resulting in significant manufacturing gains for its customers.
"Importantly, we are able to project manage and quality control all aspects of the supply chain, from procurement of raw materials until final delivery to site," says Managing Director Jerry Govender.
 "Fibre tube laser is revolutionising the laser cutting industry globally – and now locally in South Africa – as it reduces processing times to a fraction of those of conventional CO2 lasers. In addition, with electricity being a major input cost in manufacturing, fibre tube laser cuts power consumption by approximately 50%," points out Andrew Poole, Managing Director of First Cut.
 "The LT Fibre tube laser from BLM which we supplied to Qinisa offers the highest cutting precision, quality and consistently repeatable accuracy in thin to medium wall thickness tube processing. In addition, the laser can cut metals with highly reflective surfaces such as stainless steel, aluminium, copper and brass – as well as normal carbon steel – without impairing its functioning in any way," Poole adds. With the new LT Fibre tube laser, complex cutting and slotting of mild steel, stainless steel and aluminium tube can now be done in far less time than previously. The machine can handle closed and open section sizes from 15mm to 152mm.
 "A major advantage of the new machine is that the cut components are cleanly and accurately cut and are burr-free," comments Mackenzie. "Virtually any profile can be cut into the end of a tube or along its length with applications not limited to innovative jointing in tubular steel structures but also in the automotive, office furniture and decorative industries". 
A feature of the new BLM machine is its Artube software, which is compatible with most CAD software. As nothing is lost in the translation, conversions are accurate – resulting in faster turnaround times, elimination of errors, improved nesting and reduction of scrap.
 "Once we have the designs in Artube, we have them validated, qualified and signed off by the customer. With this advanced laser we can also work closely with our customers to provide them with further enhancement of their designs if need be," Mackenzie adds.
Superior BLM hardware and software ensures that consistency is absolute. In addition, once the designs have been finalised in Artube, repeating an order is simplicity itself. The acquisition of this new machine adds to Qinisa's already impressive credentials and portfolio. "We are a lean and professional team and, as senior executives, we are directly involved in all projects," continues Mackenzie.
 While the company is ISO 9001:2008 certified, Qinisa Steel Solutions continues to develop its SHEQ accreditation standards in response to customer requirements.
 "For us, the acquisition of the new BLM LT Fibre tube laser machine represents both an exciting 'quantum leap' in terms of the precision, speed, accuracy and quality we can offer our customers; and also an equally important first step on a journey which will see us providing a complete range of high-quality steel processing options throughout the South African industry".
 In this way we not only empower our partners and customers; but we help grow our industry and the wider South African economy," concludes Govender.
Share post: