Fast-forwarding ready-to-assemble tubes of any section and structural steel components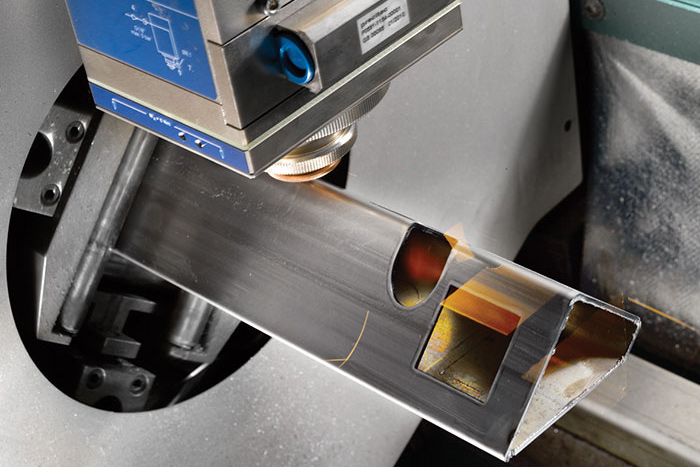 Strategic machinery investments and automation helps Qinisa Steel Solutions turn around jobs quickly and assists the manufacturing sector.
A new BLM fiber laser cutter, a new panel bender, a new Ficep monospindle gantry drilling line, a new Amada bandsaw and now the introduction of a Burny Kaliburn plasma cutter has put new kid on the block, Qinisa Steel Solutions, in a position to assist fabrication shops and a host of industrial and commercial enterprises and OEM manufacturers to fast-forward their production capabilities.
"Make it faster and better and more efficiently is what customers are demanding these days," says Jerry Govender, the Managing Director of relatively new company Qinisa Steel Solutions that was established just over two years ago.
"We buy into that concept and it was one of the overriding strategies and principles that Qinisa Steel Solutions was founded on," continued Govender.
"Fabricating metal components or products today using the same approaches and technology from 10 years ago is a time-intensive exercise. New technology introduces efficiencies to the fabricating process and companies need to embrace the new technology if they are to maximise profitability and stay ahead of the competition."
"In business, success is often the product of a company's vision – the aspirations for the future and the plans for creating opportunities and managing growth. Differentiation from the competition is an important factor in uncovering and realising those opportunities."
"This typically means doing things better, faster, more efficiently and more economically than anyone else. Continually challenging the way things have been done in the past and viewing them from a new perspective ultimately led to innovation and a strong competitive edge. Properly integrating a new technology requires a disciplined analysis to assess its effect on the existing process and the business as a whole."
"High-speed fiber lasers have had a significant impact on the fabrication industry, and the introduction of one would create an immediate differentiation. The new technology, although it is not that new anymore, helps to reduce lead times, increase productivity and improve overall profitability for many service centres and fabrication companies."
"According to research fiber laser technology requires 1.5 times less electrical energy to produce the same wattage and overall it consumes about 50 per cent less in hourly operating costs. Because the fiber laser uses highly efficient laser diodes to initiate the lasing process instead of high voltage or radio frequency, the electrical input requirements and consumptions are far less when compared to CO2 technology. In addition, the fiber does not require the use of gas turbines because there are no lasing gases, unlike the CO2, which utilises lasing gases and turbines."
"Maintenance tasks that would normally consume several hours per month, such as beam alignments on a CO2 laser, are not required in the routine maintenance of a fiber laser. Costs such as mirrors, lasing gases, and beam delivery bellows disappear because fiber lasers don't have these elements."
"Therefore, the combination of faster cutting speeds and reduced maintenance time increases machine availability and capacity when compared to a similarly powered CO2 machine."
"All compelling features and advantages for general sheet metal processing. Equally the introduction of a fiber laser to process tube and pipe attains the same advantages. However, the introduction of a tube laser into a business is not that common and we recognised that fact."
"Our BLM tube laser, being fiber rather than CO2 based, is particularly proficient at cutting reflective surfaces resulting in blemish-free finishes. It is very effective in processing cold rolled tube, pre-galvanised steels, aluminium, stainless steel, copper and bronze. The finishes are clean, smooth and virtually any profile can be cut into the end of a tube or along its length. Applications are in innovative jointing of steel tubes, office furniture manufacture, balustrades and other architectural applications are where this machine comes into its own."
"Laser technology has significantly simplified and optimised the production flow. In fact, laser cutting has replaced many of the traditional operations with a single production stage that starts from the raw tube bundle and ends with the finished product, ready to be welded."
"One interesting feature of the laser systems is the "cut-bend" function. Where 'v' notches are cut into the tube allowing it to be bent by hand into the final structure from a single piece of tube. This function involves cutting precise notches on the tube, to perform different angles and multiple bends, thus obtaining one final work piece."
"In addition to simplifying the welding fixtures and the welding process, this function facilitates improved flow in the workshop, as only one piece of tube has to be handled resulting in significant time and cost savings. We work with the drawings provided by our customers. However, even if the customer has a clear idea of the final product and wants it to be made exactly to his drawing's spec, they are receptive to any enhancements that can be done on our software/hardware to give him an even better end-product."
"We have the opportunity of processing open profiles (L,C,U and frames for locks) and special sections (as triangle tubes and others) for little and medium dimensions of pipes. The BLM fiber laser is a precise laser cutter of tube from diameter 10mm to 152mm, with the possibility of loading, processing and unloading lengths up to 6500mm."
"The machine, which was installed by BLM in September 2016, comes equipped with ActiveScan, a measurement system that measures the deformation of tube (twist and bow) along the tube's axis. Small diameter tubes are more likely to become deformed during the handling and transport. With ActiveScan such a deformation can be measured and the cutting programme can be automatically corrected."
"Another function of the machine is Active Speed, a function that automatically modulates the cutting parameters to always obtain the best possible cutting results. For cutting complex shapes, where once the expertise of an experienced operator was necessary, now the Active Speed has simplified the process and hence anyone can obtain good cutting results."
"The machine's bundle loader and automatic unloader enhance speed and improve productivity. Automated changeover to different size tubes occurs in as little as three minutes. The entire process is driven by the user-friendly Artube programming software package that includes direct import of three dimensional CAD data, part simulation, cycle time generation and advanced off-line nesting software, all helping to reduce set up time and eliminate scrap."
Ficep Excalibur 12
"If fabricators from 30 years ago time-travelled to today's shop they would be shocked. They would be just amazed at the speed and versatility of the structural steel processing machines now available. Add in the diversity of processes that a single latest generation machine can perform in a 'done-in-one' operation, I am sure they would make a career change. In most operations, the equipment cuts the beam to length and drills. Beams now also have bar codes and traceability inscriptions engraved while on the same machine that, when scanned, sends information directly back to production control software. Gone are the days spent with blueprints, a steel rule, square, and soapstone."
"It is not just the machinery that has advanced dramatically (including fast drilling with carbide tools and fast cutting with carbide saw blades) though, but also the quick movement of material and information related to any particular job or piece of material. Technicians with touchscreen tablets walk the shop floor, monitor flow, and pull up current drawings with a few taps."
"To get buildings finished on time, fabricators know they need to react quickly to changes, and the technology helps them react faster. It's all about precision and speed. From weeks down to minutes. That illustrates how dramatically structural fabrication has changed."
"Our CNC drilling operation makes easy work of all structural drilling requirements. With a capability to handle 13 metre beams up to 1200mm high, the Ficep CNC drill is also able to offer milling, slotting and scribe marking as per engineer requirements."
"The high level of drilling accuracy is achieved with simple conversion of customer drawings in many compatible formats and their transferal to the machine. The quality drilling is a result of tungsten carbide tooling with through cooling. Fitted with a six cartridge automatic tool-changer, the Ficep Excalibur 12 offers uninterruptable drilling from start to finish."
Amada 400 semi-automatic bandsaw
"Precision cutting of structural steels is done on our Amada 400 semi-automatic bandsaw that is able to handle beams up to 406mm wide and 250mm high. Known for its high degree of reliability and precision, this workhorse is seldom idle."
Burny Kaliburn plasma cutter
"We have now just installed a Burny Kaliburn high definition plasma cutter that has a 160 amp output and 14 x 3 metre bed size. The plasma has the ability to pierce and cut most metals up to 25mm thick, while at the same time offering marking capabilities."
Not just a steel merchant
"When a company goes after work in a new field, it often means adding or increasing production capabilities. We have had a clean slate from the beginning and through strategic machinery investments we have cut ourselves a niche area in the market."
"Qinisa Steel Solutions has been focusing on securing infrastructure development projects in the renewable energy sector as well as within investments in mining, government and state-owned enterprises in South Africa."
"We have supplied steel components into many different Solar PV projects from the larger utility scale (75MW) ground mounted systems to smaller 1-10 MW projects (fixed tilt and tracker systems), to carport structures of varying sizes and configurations."
"One project where we have been particularly successful is the Prieska solar farm project in the Northern Cape. Qinisa Steel Solutions delivered, amongst others, steel in the form of engineered rolled tubing for the fixed frame photovoltaic (PV) solar farm project. The rolled tubing that is post-engineered forms an integral part of the fixed frame PV panel support and anchor framework."
"We are also a supplier to Transnet and have provided graded steel plate to other companies involved in the locomotive build in South Africa for entities such as PRASA and Gautrain, as well as into other construction and engineering projects, including mining and beneficiation."
"We see opportunities in the automotive, bus and trailer manufacturing and the furniture manufacturing industries because of the tight tolerances, high quality finishes and repeatable accuracy required in these industries. We now have the equipment to process material for them."
"Importantly, we are able to project manage and quality control all aspects of the supply chain, from procurement of raw materials until final delivery to site. We also deploy the latest software in the form of Solidworks and SigmaNest to offer design capabilities while optimising use of materials."
"Within the Group we have the services of metallurgist Bruce Saxby to call upon. He is an expert in advising on different grades of metal to be used."
The company's Managing Director Jerry Govender, is a shareholder as is Vunani Capital and BSI Steel Limited, both JSE listed companies, and the company is a Level 2 BBBEE QSE company, giving customers 125% procurement recognition through its 54 per cent black-owned business.
Govender is assisted by Director Grant Mackenzie. Both Govender and Mackenzie have many years of experience in the engineering and steel industries, most recently having been COO and CEO of BSI Steel Limited respectively.
BSI Steel Limited has a number of subsidiary companies in South Africa and in neighbouring countries such as Mozambique, Zambia and the Congo.
Qinisa Steel Solutions is also ISO 9001:2008 certified and at this stage has a staff compliment of 22.
"We like to see ourselves as a company that empowers our partners and clients and we help grow the economy in a meaningful way by creating jobs and economic opportunity. We do this through adding value to steel. We have built up relationships with local and international mills and while our primary focus is to add value we are still able to stock material for clients."
"Our current project is building up a fabrication department whereby if requested we can fabricate the material that we have just processed," said Govender.
Originally published in Metalworking News
Share post: